Up and Coming Golden Retriever Puppies
These are our beautiful moms and dads who are soon to bless us with lovely, healthy Golden Retriever puppies. We are always planning for the future, and you can get on the waiting list to reserve a puppy from our wonderful Golden expecting mamas. Thank you for your interest in our Golden Retrievers! We do have some great litters expected this season.
PLEASE NOTE: The earliest our Golden Retriever puppies can go home untrained is at 8 weeks of age, price for our non-Cream pups starts at $5,000, our Cream colored Golden Retrievers start at $6,000.
We have puppies available ready to head home Now! You can get on our Waiting List for Future litters!
Bree
Brie, mom: Blond, beautiful girl who is very social and loving. A playful spunky girl who loves endless games of fetch and chase. We joke she seems to like people too much; a great quality in one of our mommas.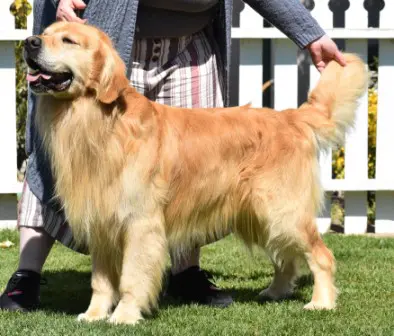 Major
Major, Dad: Traditional Warm Gold. a Total Momma's boy. Took home many ribbons for his beautiful and spirit in the show ring. Goofy, Weighs over 85lbs, Thick Strait coat, Magnificent large square head. Medium activity level loves to play fetch, destroy stuffies and snuggle.
We always expect big blocky and stunning pups from our Major. Pups should be playful, with great social attitudes, These pups are all shades of GOLD!! Their last litter was soo much fun to train. No puppy is promised based only by the color of their coat; only a few pups look as light as mom. We always enjoy training their pups! they work out great for ESA, or just good loving family pets. We expect the pups to be light gold shades.
$5,000
Previous boys
Previous girls
Due to the demand for our amazing pups and trainees we have to operate with a MASTER WAITING LIST.
To get one of our pups you'd want to be on our Master Waiting List to be in Line. Current estimate for bringing home one of our pups(these are estimates it could be later):
Goldens (non-cream) $5,000: Males 2023, Females 2022
Cream Goldens $6,000: Males 2023, females 2023.

We take deposits towards a specific gender and you are on the Master Waiting list in line for a puppy. When the pups are born we will start at the top of the list with deposits first received and notify the families of the birth of the pups and all the details. Our families will have the option to wait for the next litter. Deposits are non-refundable and will be held as a credit towards the next expecting Golden Retriever litter. It is a 20% non-refundable deposit to get on the Master Waiting list.

We accept all MAJOR CREDIT CARDS* (VISA, MASTERCard, American Express), Personal Checks, Cash and NOW ACCEPTING ZELLE! *There is a 3% fee for Credit Card charges.
To find out if a current or upcoming litter would suit your family, or if you would like some assistance in finding the perfect already-trained dog to join your family, please fill out our Puppy Information Request Form. Please note that filling out this form is REQUIRED to schedule an appointment.
We hand select all puppies for their families based on temperament and desired physical traits. We begin with the first person on our waiting list, and work our way down. A non-refundable deposit in the amount of 20% will be required to secure your place on our waiting list.
If you have any questions, feel free to email us or call us at (805) 532-2216.
For information on our current available Golden Retriever puppies, click here